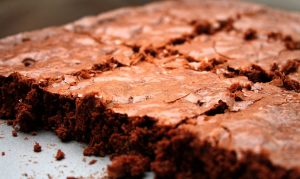 When you live on a Keto diet, you have to pick and choose your foods. Here is a keto brownie recipe that is as close to regular brownies, as you're going to get!
Almost Perfect Keto Brownie Recipe
We've spent a lot of time, testing different keto recipes. Some of these recipes are good, but many of them are just plain awful. This recipe took me ages to find, but now that I have it, it's become my go-to brownie recipe!
These brownies have the perfect brownie texture and the flavor is spot on. As spot on as you're going to get using non-sugar sweeteners, like Stevia.
Keto Brownie Recipe
Cook Time: 20 minutes
Total Time: 30 minutes
Servings: 12-ish (or 1 if you aren't sharing!)
Calories: 180 kcal
Ingredients
6 eggs
5.6 oz butter melted
2.2 oz cocoa unsweetened
1/2 tsp baking powder
4.2 oz cream cheese softened
2 tsp vanilla
3 – 5 tbsp granulated sweetener, like Stevia, to your taste (4 tbsp was perfect for me)
Instructions
Place the ingredients into a mixing bowl and mix with a hand mixer until smooth.
Grease a 9×9 baking pan with butter then pour in the brownie batter .
Bake at 350F for 20-25 minutes until cooked in the center (test by poking the center with a clean fork or toothpick, if it comes out clean, it's done)
Allow to cool 5-10 minutes (yeah, right!)
Slice into squares, or any shape that tickles your fancy, and serve.
You're going to be amazed that you can still have delicious brownies (Keto brownies even!), with only a slight sugar-free sweetener aftertaste.
Was this helpful?
If you found my posts interesting, or I helped you figure something out, please consider tossing me a tiny gratuity for my time, research, to help offset the web hosting/development costs or to buy me a cup of coffee.

* This post may contain affiliate links. This means that I "might" receive a tiny amount of money, if you make a purchase using one of our links. It does not cost you anything extra, and helps us defray the costs of hosting and maintaining this site.